New's Updates
COMING SOON - 2012 ANNUAL REPORT
June 29, 2011
Schlabachs Nursery of Medina, New York is currently rearing seedlings for OUR Plantings next spring…these will include Apples, Sweet Cherries, Peaches, Pears and Apricots. These seedlings will be planted in Orchard Formation to facilitate the reclamation of "Old Farmland Orchards" that once inhabited these properties. These new Strains are extremely Cold Hardy and of Disease Resistance, and will arrive early next April. Schlabachs also offers "Heirloom Apple Varieties", of which types are currently growing wild in all of OUR parcels…with Schlabachs assistance we will plant those Apple types that were once commonly grown in Maine in the 1700's and 1800's. This restoration of a "Food Supply" for Wildlife and Human Consumption will be one further addition of this Restoration. We wish to thank Patty Cormier, District Forester for The Maine Forest Service for temporary use of a "Pallet Bridge" to cover a Perennial Stream on the Project. This use of a "Stream Crossing" allows us to reclaim a much larger area for timber stand improvements and Forest Habitat Diversity without disturbing the stream and its use by wildlife as a "Travel Corridor". We are currently involved in a venture to incorporate a Bridge over this location and are awaiting approval from The N.R.C.S. for type and size that would meet with E.Q.U.I.P. Regulations. An application for E.Q.U.I.P. was written earlier this year to accommodate our need for a "Stream Crossing". Reply from The N.R.C.S. [U.S.D.A.] for E.Q.U.I.P. Projects is released in July, and is one of the Programs listed in The Farm Bill. The E.Q.U.I.P. Program allows an applicant both Cost-Share and Technical Assistance from their field of experts.
September 22, 2010
We held OUR first "Open House" for all those interested in seeing OUR accomplishments on September 22nd. Staff from Unity College that was with us illustrated the commitment they would make to "Partner" with us in Projects like this and others that we are addressing. A good time was had by all and future plans are for more "Open Houses" to occur.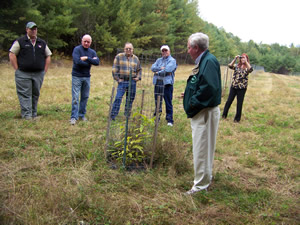 Dr.Glen Rae explaining proper growth for an American Chestnut Tree seedling
Kevin White, District Conservationist (Federal) for the Natural Resources Conservation Service, U.S.D.A.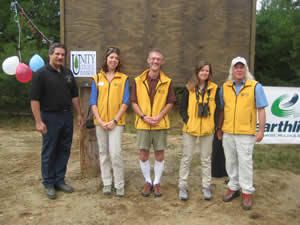 Representing Administration and Faculty members of Unity College.
---
---
August 7, 2010
Work continues on the Owen's Marsh Project. Several new grassland areas have been created and fertilization and seeding is ongoing. Over the past several weeks, over six acres of poor quality white pine have been cleared, stumped, graded, fertilized and seeded.
In early spring several waterfowl nests were placed in the Owen's Marsh. The floating nest seen below, produced a flock of Common Mergansers which have been seen paddling around the marsh. The American Chestnut grove is growing nicely. All seedlings now have protective fencing as well as ground cloth to eliminate competition from weeds.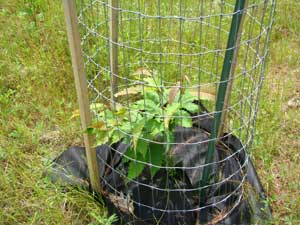 ---
August 02, 2010
Owen's Marsh Project recieves financial support from the NRCS Conservation Stewardship Program. This program rewards landowners who are promoting conservation of soil, water and air resources and utilizing conservation practices that promote stewardship of their property. The CSP program provides financial and technical support to landowners who have demonstrated existing use of conservation practices and agree to adopt additional practies. Projects are ranked by the NRCS to determine eligibility and demonstration of existing resource practices.
Maine NRCS Conservation Stewardship Program
Maine CSP Program Press Release - May 13, 2010
we
---
July 28, 2010
The NRCS Wildlife Habitat Incentives Program or WHIP, is a volunteer conservation program that provides financial and technical assistance to landowners for wildlife habitat enhancement. Some of the projects recently funded on Owen's Marsh include waterfowl nests, song bird nest boxes, grassland creation and mowing, and planting shrubs and fruit trees.
In the spring of 2010 additional funding allowed a regional specific WHIP program referred to as the New England WHIP Initiative. Owen's Marsh Restoration Project ranked within the top five in New England for this program. Because of this financial support, AGRI will now be able to complete many habitat enhancement projects through the coming months.
View the NRCS WHIP fact sheet (.pdf)